PERTUBUHAN HOSPICE SEREMBAN
Logo: The Candle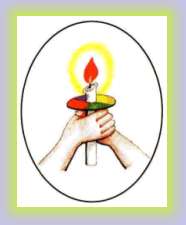 The Flame: Gives WARMTH and ENLIGHTENMENT
Disc: HOLISTIC CARE
Spiritual
Physical
Social
Emotional
Hands: Bringing comfort to the terminally ill.
Candle: The terminally ill.
As the candle flickers, it gets smaller and smaller.
Life is like the candle, slowlly diminishing day by day.
WHAT IS HOSPICE?
Hospice is derieved from latin word.
Hospitium which means "Hospitality".
THE MAIN OBJECTIVES ARE:
1.To provide relief of pain and other distressing symptoms.
2. Counselling to patients and their families.
WHAT DOES HOME CARE SERVICE RENDER?
Help in the control of pain and other distressing symptoms.

Provide respite care for care-givers and family members.

Counselling and emotional support for patient and their families.

Bereavement support to the family.
THE HOSPICE TEAM
The team consists of:
Nurse Coordinator

Doctor

Nurse

Volunteers
ELIGIBILITY HOME CARE SERVICES
Any person whose illness has progressed that curative treatment is no longer possible.
CHARGES
Home Care Services is free.
Patients will however have to bear the cost of medical supplies.
IMPORTANT FACTOR
DOCTORS, NURSES AND VOLUNTEERS WILL RESPECT YOUR CUSTOMS, RELIGIOUS BELIEF AND CULTURAL HERITAGES.
They will not intervene in family matters.
THEY WILL ALWAYS MAINTAIN STRICT CONFIDENTIALITY.
FUNDING
We hope to improve the quality of our services through your generous donations.
Your donations can be addressed to:
"Pertubuhan Hospice Seremban"
Address:
Chairman,
Pertubuhan Hospice Seremban,
D/A Pejabat Penyelia Jururawat,
Hospital Seremban,
70300 SEREMBAN.
Tel. No.: 06-7623333 ext. 1005
Fax No.: 06-7625771